The design of your blog is the first thing that your new visitors will notice. Having an attractive design for your blog will help you attract more readers regularly. When it comes to blogger, most of the people tend to go with the free basic themes offered by BlogSpot, which are usually elegant and but simple.
But there are some templates that look premium and are available for free for all users. If you want to give your website a premium and professional look without spending a dime, definitely give these templates a spin.
Ratio
If you have been planning to build a magazine type blog for some time and looking for the best premium looking template, Ratio is the one for you. This template is available to download for free and almost looks like a premium theme for a WordPress website.
This template can be customized as per your personal preferences and comes with drag and drop features. Apart from giving off the premium vibe, the template is SEO friendly and has a very responsive layout. It offers custom widgets such as post and Instagram widgets on your blog.
Maggner
Maggner is another great premium template for your blog, specifically designed for people who are trying to build a tutorial or news blog. Similar to the previous template, this one also offers you the ability to customize it to meet your preference.
Maggner is not just a premium looking template; it is optimized for SEO as well, so your visitors can have an amazing user experience. And if you are planning to monetize your blog in the future, this blog comes with Adsense compatibility as well. This template has fast loading speeds and offers a two-column layout with banners, and author boxes can be added as well.
Sensational 2.0
If you think the Sensational template was amazing, you need to try out the Sensational 2.0 template. This is the successor of the previous template that was developed by BlogTipsNTricks. The new template is developed by a different developer and comes with better-enhanced features.
The template offers a newly designed theme that offers custom widgets for labels and posts. The developer has also redesigned the fonts and comments section. Similar to other templates in the list, this one is also SEO optimized. There are custom widgets for social sharing as well that will offer a better user experience to your visitors.
Elice
For people who are looking for an extra responsive template for their blogger while maintaining the premium aspects at the same time, Elice offers everything that they need.
This template comes with a sidebar feature and opt-in form at the homepage. Like most of the other templates, this one is also SEO optimized and loads quickly and offers comments section with threads. For people who are building a blogging site, this is one of the best templates you will find out there.
CopyBlogger V2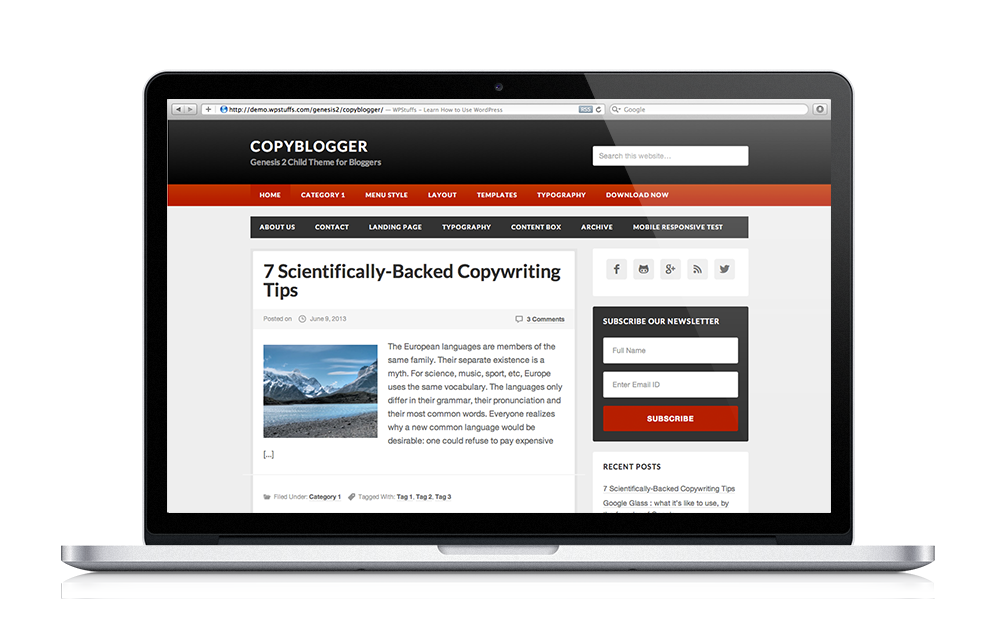 One of the most responsive templates you can find out there. CopyBlogger V2 developed from the child theme of Genesis. This template is great for people who are trying to build a regular blogging site on BlogSpot. The template is responsive, clean and just like the other ones, is completely SEO optimized.
CopyBlogger V2 offers vast customization such as navigation menus, custom widgets like a subscription for emails, and much more. You can also set up a custom search bar for your blog with page navigation features. The template is free to download, and users can check the live demo before downloading or installing the template on their blog.
Balance
Just like the previous template, Balance is another template that is converted from the child theme of the genesis theme. Balance is a clean looking premium template that is free to download. It's very responsive and offers features such as opt-in forms, navigation menus, comments with threads, and gird posts.
Just like the last one, users can test out the live demo from its official page and decide whether it would look good on their blog or not.
Minimum
Next on the list is the Minimum template, which is another great template converted from the genesis child theme. Similar to the last two templates, this one also offers the same features, such as responsiveness, fast loading, comments section, email subscriptions, and much more.
The home page of your blog can be customized as per your needs using the MInimum template, and it comes with social profiles as well that will be displayed on the homepage of your blog.
SEO Mag
Another great template that caters to people who are looking for a magazine-style design for their blog. This template offers a lot of features such as infinite MegaMenu, custom widgets, comment widgets, and even featured content widgets.
You will also be able to add custom headers and social sharing features as well. The template is optimized for mobile devices as well and is responsive, regardless of the screen size of the device.
SEO Mag is also well optimized and ready for Adsense for your monetization requirements. And the best part is that the template is free to download, and users can test the live demo on its official page.
Simplify
This is another great template for people who are looking for Adsense capabilities. Simplify offers a great design with advanced SEO optimization. The template offers fast loading speeds with drop-down menus and a magazine-style theme.
SImplify template is designed by Gooyaabi Template and can be downloaded for free from its official website. There's also a live demo available for users who would like to test it out before downloading the template.
Gordon
For people who like simplicity infused with premium design, look no further than the Gordon template. Gordon offers a clean design with easy to use social sharing buttons and a search bar. The template comes with a two-column layout and is well optimized for SEO.
Closing Thoughts
Whether you are going for a magazine-styled template or want one that offers you the ability to monetization your blog, these 10 premium looking templates will definitely help you in 2020. Don't forget to test the live demos before you decide which one you want to go with.