Ever wondered how people create their blog so easily on the internet? Are you planning to do the same as well? Want to lay down your thoughts for the world to see? If the answer to every question above is a 'Yes', then you came to the right place.
In this article, we will go through one of the easiest ways to create a free blog on the internet using BlogSpot. But before we begin, let's understand what BlogSpot is and why you should go with this platform for your blog.
Blogging
In layman terms, blogging is an art of writing down your thought about a topic on an online platform in the form of articles or posts. These posts can be based on one or several topics or niche you choose, but it's better to stick to one niche that you are interested in. But you still have the option to write on any topic you want to talk about.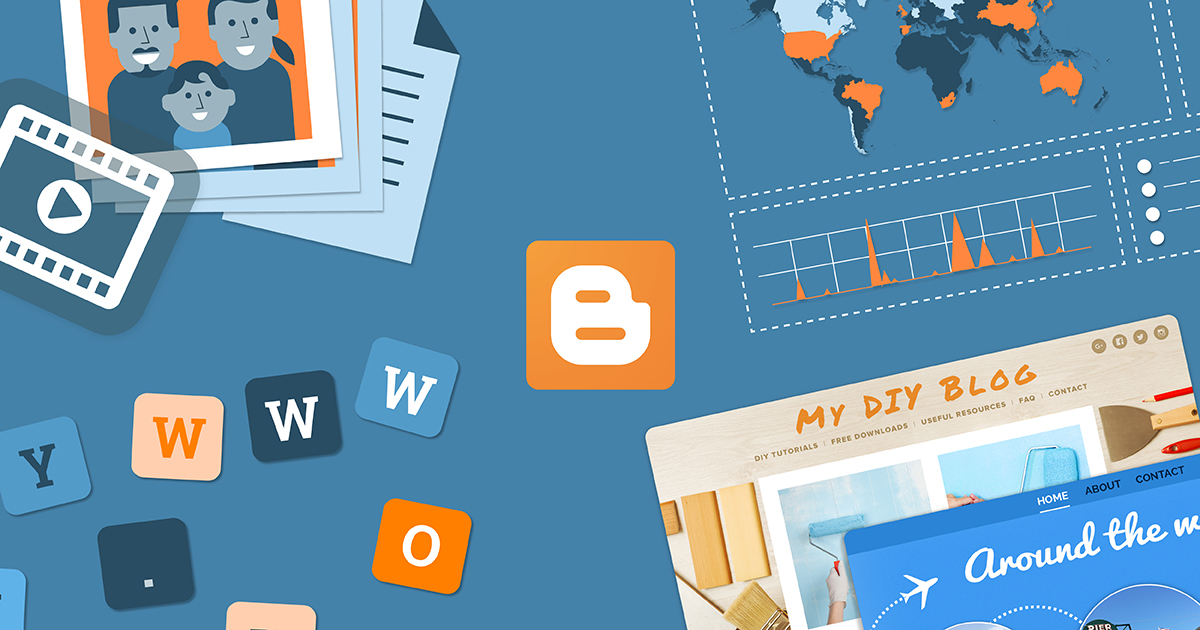 BlogSpot
BlogSpot is a platform that allows you to create a free blog using blogger.com service. BlogSpot is owned by Google and offers domain services while blogger.com offers a publishing platform. Essentially, both can be considered the same thing. This is one of the best platforms for creating a free blogging website and for earning money in the long run.
You don't need to have much technical knowledge in order to get started with the blogging service. Since it's free of any charges, anyone can get started with it. And it might be one of the best options here for people who are sitting at home, thinking about starting their very own blog, to earn money. But you have to keep in mind, it's still not capable enough like other alternatives such as WordPress or Wix. But almost all of the other methods need you to make the investment first to begin the process.
How to Create A Free Blog on BlogSpot?
Creating the Blog
The first step in to head to BlogSpot's website. On your web browser, enter blogspot.com and hit enter. It should take you to blogger.com, don't worry both are the same, as explained earlier.
You should see the 'Create Your Blog' Button in the middle of the website. Click on the button. It'll take you to the Google account login page. Since you need a google account in order to use blogger.com services.
Create a google account if you don't have one already, it's quick and easy to create one. If you already have one, log in using your credentials.
After you log in with your Google credentials, it should take you to the welcome page. Click on 'Create New Blog' On that page. This is where you will start building your free blog website.
On the next page, you'll have to enter a name for your blog and address that you prefer and want people to access your blog with. Take your time, choose a good blog address and blog name. It's always a good idea to choose a domain name that reflects the niche you are going to work with. Remember that your domain name will also include BlogSpot in the address i.e. 'XYZblog.blogspot.com', but a custom domain can be added later.
Choose a theme for your blog. It's always a good idea to choose a simple, uncluttered theme for your blog, so users have no issues navigating through the website. But don't spend too long to choose a theme, you can always change appearance later. Once you have all three things in order, click on 'Create blog!'
Customization
Once your blog is created you have to make sure it's visible to all the search engines, so all your articles appear when people search for related keywords. To make sure this happens, go to 'Settings', then 'Basic'. Find 'Privacy' and click on Edit, answer the questions with a yes and click 'Save changes'. Changing this setting will allow your blog to be added to BlogSpot's listing and search engines will be able to find your blog.
You can customize the blog the way you like it by going to the 'Layout' option. From there you can add a custom logo for your blog, insert links to the sidebar with Gadgets which are essentially somewhat similar to 'widgets' on WordPress. These links can include pages, links to other sites, blogs, or web pages or just plain and simple text message for your visitors.
Create Pages in Your Blog
About us and the contact page are among the most important pages you need to create for every blog regardless of the platform that you use. On BlogSpot/ blogger, you can easily create pages by going to the 'Pages' option on the dashboard of your blog. Click on 'New page', add Page name and content you want to display on the page.
You can create more pages if you want to use the same steps. These pages can also act as different categories that you want to write blog posts on. Such as 'How-to', 'Reviews', etc.
Adding your First Blog Post
To add a blog post to your blog, go to 'Posts' from the main dashboard. Here, all the posts that you create will be listed. Since you haven't posted anything yet, click on 'New Post' to add a new blog post. It should take you to the post editor page.
Here you can add in the post title, subheadings, and post contents such as text, images, and videos. To add images or videos to your post, click on Imagine or video icon on the toolbar, upload the image or video and you are good to go. You can also embed links using the 'Link' option in the toolbar for adding YouTube videos without uploading them, saves a lot of time.
Once you are ready to with your post, you can either click on 'Publish' to post the article or preview the post before publishing using the 'Preview' button net to Publish.
Closing
Using these steps, you will be able to start your very own blog and write down your thoughts and opinions about anything on the internet. Unlike other platforms, where you have to invest in multiple things before you can begin publishing blog posts on your website, BlogSpot offers an amazing alternative for everyone without needing a hefty budget.