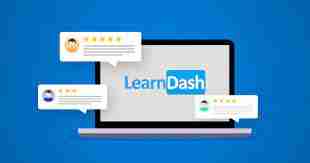 What is LearnDash LMS Plugin?
Today's digital world focuses on making information accessible in an engaging way. There are so many creators who provide information to us through seamless learning platforms.
One
The LearnDash plug-in is an integrated plug-in with WordPress to create an interactive curriculum for training or for making courses with muti-media tools for people without the need of coding.
For rising edtech companies and small businesses that are working with IEC materials for the training people disseminating information. This is a very useful tool
LearnDash is a popular plugin on WordPress, used as a Learning Management System to create an innumerable number of courses. It has useful features which make e-learning useful and convenient.
Organizations can also leverage this plug-in with video content to be integrated into the courses. One can even track the completion of courses and generate online certifications to the students after successfully completing courses and the associated assignments.
Benefits
LearnDash is scalable as many Learning Management Systems working on independent apps and websites, require separate UI/UX designers and developers. If the UI of the LMS is faulty, it will affect the operations of the e-learning system. Hence LearnDash becomes a flexible option
For a small organizer or even an individual, with not much budget to get coders, LearnDash can be upgraded with the feature of the Focus Mode which makes the e-learning platform professional with a proper layout of video settings, quizzes , and assignments. It has come with the interactive UI where you can even see the progress of the audience
It has interactive features where trainers and course designers can comment on the assignments and progress of the students
. One could always repurpose their courses that are interlinked by adding the topics from the previous course by simply going to the course builder dashboard, and going to the right side, where under the document button, the course can be seamlessly integrated.
With LearnDash, one can create courses in multiple languages.
The entire course material and lessons were automated with dates and times on the platform due to its drip feed content feature under the Lesson Settings page
The prerequisite feature helped the beneficiaries to meticulously complete all the assigned modules.
Since most of the online tutorials are video-based, LearnDash's video progression tool was important as it acted as a responsive element that allows marking the videos after the viewing is complete and automatically takes the students to the next video in the module. This was useful to see if any student has skipped the video or just partially watched it.
Challenges
Despite its benefits, LearnDash does have its shortcomings
The shortcodes used in the tool are difficult to remember
The UI/UX is extensive for beginners to build the courses
The design layouts by the visual builder have few options to make the presentation and layouts of the courses visually appealing.
It did not include a disability feature for students with visual or auditory impairments