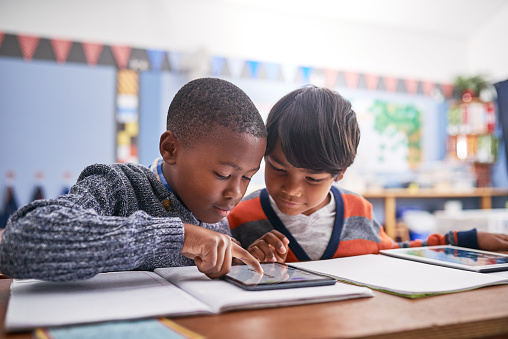 When the pandemic occurred in 2020, students in schools were very much affected. There was a gap to be mentored and understand concepts that happen more profoundly in the classrooms. With no one-on-one guidance and remedial classes, many students found also found zoom classes to be tedious. To bridge this gap in digital learning, edtech startups in India emerged to transform the learning from the home scenario and make it less burdening for the students.
The edtech industry is the second largest booming industry in the world which is gaining over millions of students. It has made learning accessible and affordable for students who are dependent on coaching classes and private tutorials to learn.
Let us look at how these ed-tech startups in India are pioneering digital learning
1) Byju's
Founded Byju Raveendran and his wife Divya Gokulnath, Byju's is the primary name that every household in India knows when it comes to online education.
Byju's has collaborated with international entertainment organizations such as Disney to create edutainment content that makes learning fun and engaging for kids in schools.
It is now collaborating with the premiere coaching institute Aakash for providing online sessions, personalized classes, and practice questionnaires for students appearing for IT JEE and Medical Entrance examinations.
Byju's even has an exclusive learning app for kids who are in classes 1-3 to make learning easier and wholesome.
2) CollegeDunia
Authentic information about college courses in India and abroad is very much crucial for the youth of India. Most young students in India do not get the right information about colleges, especially regarding the course curriculum, scholarship availabilities, and placement services.
CollegeDunia is the primary edtech search engine for college students. Since 2014, it has collated authentic data about 27000+ colleges and 7000+ courses in both India and abroad. The information present in its database is authentic and verified.
It has even started to provide profile reviewing services for students aiming to study abroad.
The platform has help, several young adults, to make better choices about their higher education and career path by getting the right information about their college choices.
3) CueMath
Mathematics has been a challenging subject for many school students. Many of them have said that the concepts are just taught but their visualization and understanding are very much limited and not engaging.
CueMath founded by Manan Khurana in 2013, started as an after school math enrichment programme. Today with its revolutionized gamification techniques, it has changed the way math is taught. The edtech platform has taken a 'learning by doing approach' for students to enjoy maths and grasp the concepts in a better way. CueMath is one of the few edtech startups in India that caters solely to improving mathematical learning for students as well s creating employment opportunities for women.
4) Culture Alley
Today, learning one language is not enough. They need to have proficiency in English and other foreign languages. Learning a new language is a life skill. It can be useful when students plan to travel or apply for jobs in foreign countries.
Culture Alley as a multi-language ed-tech startup improves the user experience of learning a foreign language either by hiring a teacher or through audio-visual aids present in the platform.
It also has a free learning app called Hello English, which makes learning English easier through videos and attending specialized online classes.
It even has taken a real-time approach for students to learn a new language by integrating the app with social media networks such as Twitter and Facebook; so that students learn the language as they are browsing.
5) Dost Education
Education should be an empowering friend to anyone. Taking this concept ahead, Dost Education emerged as a non-profit edtech startup helping parents from low-income parents to be prepared for early child development and education.
Through an audio training course of 24 weeks, they teach parents about skills that will enable them to help their children grow in their early years and how to create a learning environment in school.
6) UpGrad
For fresh college graduates and med-level professionals, UpGrad is one of the most prominent edtech startup to learn in-demand skills. They have short-term and professional degree courses on marketing , data sciences, and artificial intelligence which the users can avail to upskill in the professional life and be jo ready with skills that are in demand.
These edtech startups in India are bridging the educational inequity present in the country as many government or low-income schools do not provide quality education to students. Through the courses and online lessons, every student gets the opportunity to grow and learn.