When released in 2020 on Netflix, Emily in Paris gained attention from young millennials and bloggers because of the influence of fashion. The show got mixed reviews for showing a cliché story of another American girl in Paris. The show made agency life look easy as a breeze, which is an unrealistic expectation for many who want to step their foot on this career path.
However much we pan this show, it still has its own form of silver lining- the lessons in marketing. Yes, Emily in Paris has very underlining but essential marketing lessons that new and fresh talent in the marketing industry can learn to fulfil the marketing goals. Not only agencies but independent brands can also learn valuable lessons to tap into a niche audience and grow the brand ethically.
Let us take a look at some of the valuable lessons in marketing that Emily in Paris gave us :
Social media marketing is just not about numbers
The number game is taken to be critical for social media marketers working for brands in the agencies. But it is not the driving factor for growth. Brands and social media marketers should drive content from a personalized perspective. That is what makes the audience intrigued on social media. Social media marketers should look at user engagement more deeply to analyze growth on social media rather than chasing new followers
Agencies are a brand themselves
Emily felt that the agency where she worked did not have a social media presence, although it works with high-end brands in Paris. She made her bosses realize that in-house branding is crucial for gaining new clients and establishing your value as a leading marketing agency. It holds for agencies. Agencies also need to up their branding and marketing game on social media platforms. They should provide value through client case studies. A robust marketing presence helps agencies stand out and gain new clients as they have the social proof of their capabilities.
Influencer marketing helps in the growth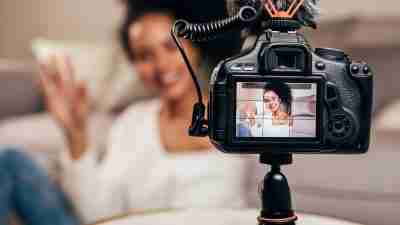 Influencers are the future of brands and marketing. Marketers and brands should leverage influencers who will become the spokesperson and promote the brand. Millennials love to use products that influencers endorse on social media. 
However, it is essential for brands and marketers to only engage with genuinely invested influencers in the product and have excellent product knowledge, which they can innovatively integrate into their content. Emily did the same with a lipstick brand and made it personalized and relatable.
Keep the gender lens in mind
Whatever content or idea marketers put out on behalf of a brand can go wrong if it diminishes women's identity. In Emily In Paris, a female hygiene product in French was associated with a male pronoun. Emily saw this as an opportunity to educate people on social media on gender equity on branding through wit and humour. The educating content received traction on social media. In reality, marketers should be cautious of gender lens as they might be called out for being insensitive to other genders or not being gender-inclusive. Promoting sexist content under the garb of a specific gender role can cost brands their reputations. Imperial Blue whiskey's 'Men will be Men' campaign was called out for promoting misogyny and normalizing toxic masculine behaviour as a gender trait.
Create from a personalized experience
Emily was inspired by Van Gogh's Under The Stars and used it to pitch a home-decor brand campaign. The idea was fresh and engaging as it was inspired by real-life relatability. Brand marketers need to put themselves in the customer's shoes to promote the product. It should feel relatable for the audience and make them use the product. Taking inspiration from one's personal life makes content and brand campaigns unique.
Cross-promotion
Cross-promotion has its benefit. Emily promoted the content of a luxury watch brand being endorsed by a famous actress wearing couture of one of the designer-client in her agency. It led to the cross-promotion of all the three brands together. If your agency has a multi-portfolio of clients and influencers, then let your marketing manager leverage them for cross-promotion so that the brands get simultaneous traction and growth on social media.
Generic Never Works
Generic solutions executed by marketing managers hamper the brand in the long run. The 'wow' factor is missing in such solutions. Emily's agency was about to lose its luxury perfume client. To retain the brand in the agency, she decided to pitch their product as a signature scent for a hotel chain. It was a new industry and a customer base that the perfume brand was acquiring with an out-of-the-box marketing strategy.
Marketing managers should come up with new out-of-the-box strategies for promoting the brand.  They may even attempt to tap into new markets if needed to enhance the brand's customer base. It makes clients treat marketing agencies as growth partners rather than just another vendor in the market.
Take Audience Opinion
To test the viability of a controversial campaign idea, Emily decided to do a Twitter poll. Marketers should ask the opinion of the audience while launching a product or a campaign. This is a suitable method of A/B testing the viability of the product. There are many ways to promote a product or a campaign through the audience's opinion. Leveraging user-generated content, challenges, and audience polls help marketers understand if the product creates an impression amongst the target audience.
Networking
Emily used to attend marketing events and gatherings for networking. It gave her access to interact with marketing heads of brands and pitch her agency. Marketers also need to be on their toes to understand the new trends and dynamics in the industry. Attending networking events opens doors for marketers to know the industry from the big players and pitch their agency's value proposition through personal interaction.
Well, Emily in Paris gets you all geared up to be a better marketing person and bring the zest of creative ideas to acquire new accounts. We hope Season 2 of Emily in Paris teaches us a better lesson on marketing.