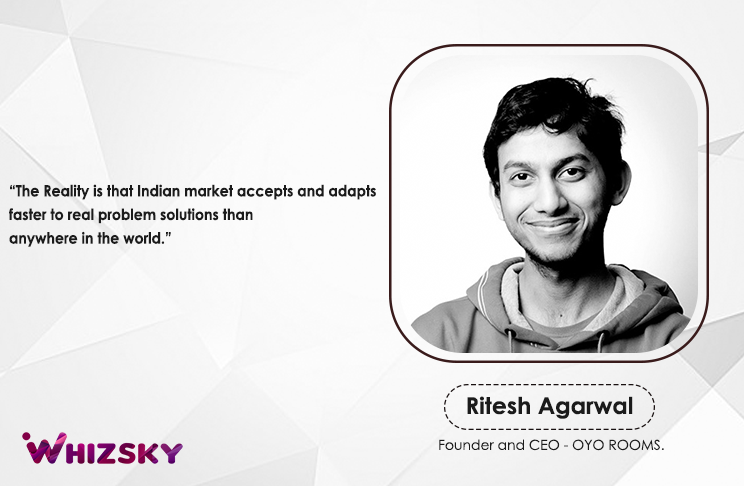 Ritesh Agarwal- Age and Family
Ritesh Agarwal was from a middle-class Marwari family who resides in the state of Orissa. Ritesh Agarwal was born and brought up in Bisam in Cuttack, Orissa. His date of birth is 16th November and he was born in 1993 which makes his age to be 21 years. He did his schooling from his state. Speaking of Ritesh family background, he comes from a middle-class Marwari family who resides in the state of Orissa. His family is from a business background. However, prior to he has become a multi-millionaire, they did not have a good financial condition. However, his family always supported Ritesh to become what he is today and always trusted him with every decision that he makes.  He is known as Ritesh Agarwal Oravel founder as the first organisation he created was called Oravel which later converter to OYO Rooms. His nationality is Indian.
Ritesh Agarwal's Life Story
Ritesh Agarwal was 18 years old hailing from Odisha's Rayagada district and was the one who launched Oravel, a website designed to enable listing and booking of budget accommodation. Ritesh was who once wanted to sit for an engineering exam, Ritesh today heads among the most valuable start-up by a person who never studied beyond school.
For survival, he also sold sim cards but he was afraid that if he's well-off family would have known they would have ended his entrepreneurial dreams and summon him back home to Odisha if they knew of his struggles.
In Kota (Rajasthan), where he was ostensibly preparing for his IIT entrance exams, Ritesh said that he couldn't wait every weekend to slip out to Delhi and meet those doing their own thing.
He was 19-year-old where he had travelled for months staying at budget hotels, attended customer calls every day and immersed himself in every possible experience to learn about budget hotel customers and their expectations. That was an on-the-ground learning for him to start something of his own which helped him pivot Oravel to Oyo. 

At the age of 17, Ritesh started his entrepreneurial journey. Oravel Stays Pvt.Ltd. was launched after he dropped out of his college, in the year 2012. That was his first startup. The company Oravel was designed for customers to enjoy the platform for enabling listing and booking of budget accommodation. Being an avid traveller, he soon realized that the budget hospitality sector lacked predictability. Therefore, in 2013 he pivoted Oravel to OYO Rooms with the key proposition of offering affordable and standardized accommodation.

According to CB Insights for The New York Times research, OYO Rooms is the next start-up unicorn company that will satisfy the customer needs with a budget. Ritesh Agarwal was selected for the "20 under 20" Thiel Fellowship in 2013 from Peter Thiel.. The Thiel Fellowship is a two-year program wherein fellows receive $100,000 and mentorship from the foundation's network.
Oyo Rooms and  Ritesh Agarwal's Success Story
Ritesh was born to a business family in Odisha and attended the sacred high school in Odisha. During the days in Rayagada it was all fun and learning for him. But his ways were rather unconventional from those of other kids his fun element was to screwing with the computer and trying hard opportunities to make mistakes so that he could learn new stuff. And doing that he gained a keen interest in software. This started with the idol friend, moved on to know more about it and then hunger went on increasing to quinces thirst to no more He brought his elder brothers books for programming. Some of the fundamental languages like Pascal, basic were taught in the school itself and rest him manage to learn from Google. Interestingly he started coding when he was 8 years old, so software had begun his first love. By the time he reached 10th grade, he had made up his mind that he wanted to take coding for a leaving.
ater on 2011, Ritesh moved to Delhi with strong intenseness of starting up something of his own and at the same time also prepare of SAT to move to the US for further studies. But fortunately or unfortunately SAT never happened and he uses to do nothing but only to read about entrepreneurs, startup, business and specially AIRBNB. Ritesh joined the University of London of London course at Indian business school. But after 3 days of joining he couldn't control his craving to kicks start his adventure. So he took days leaves to work on the project and finally, he never went back. Ritesh he always felt that budget in India didn't even meet the very basic needs of budget traveller. And capitalising of this opportunity he started his first venture in 2012 and called it Oravel stays. It was a accelerator of bed and breakfast stay across India.
In a matter of no time he also secured funding of 30 lakhs from venture nursery and accelerators firm which brought together a bunch of story investor to nature startups with sufficient money in his pockets. He started working on his new found interest and at the same time, he also presented his idea at the Thief Fellowship, a global convict for students, under the age of 22. He manages to be amongst the top 10 venture and receive some of $100,000 from Peter Thiel, the co-founder of PayPal and an early investor of Facebook. The newfound confidence, he started working even more regularly, But to his hard luck the business modern doesn't seems to be picking up and as much as he tried to fix things. Things were just not falling into place. Ritesh also got Manish Sinha of Gurgaon based as their co-founder.
But unfortunately it didn't work and Manish had to quit the company. That is how Ritesh went on to the thinking mood and realise that the biggest way while travelling was to find a good, affordable and affordable hotel to stay in but like always most of them ended up staying in a crappie place with equally crappie stuff and food with still whole track. Got motivated again to create an online yet social community to bring information about all good places together at one platform. And as a last stress site Ritesh tweet about the new business model and in 2013 he relaunched Oravel as Oyo Rooms. The name Oyo means "on your own", nothing but an idea to create India's largest chain of efficient, young and standardises budget rooms. Later in 2014, the company raised rs4cr from Lightspeed Venture Partners and DNG computer partners.  Now Oyo Rooms are the largest venture in India and out of India.
Other Achievements of Ritesh Aggarwal
His achievements include a book called "Kaleidoscope" written by him, which has around 25 award-winning short stories, selected amongst several other stories nominated in an online contest organized by SpringTide. Other than that, he loves travelling and going for long drives to unwind himself and likes playing basketball when he is not working.
Today at the age of 24 he is one the biggest businessman in India. He has won many national and international awards. Below are the few awards that he won:
Forbes "30 under 30" in the consumer tech sector
Top 50 entrepreneurs in 2013 by TATA First Dot powered by NEN awards
TiE-Lumis Entrepreneurial Excellence award in 2014
Business World young entrepreneur award