It's no secret that backlinks are essential if you want to achieve exceptional SEO performance. While Google continues to evolve its algorithm, they have become more relevant than they once were. Combine these backlinks with content that is SEO optimized, you have the two extremely important factors that can improve your search rankings significantly.
Having a good number of backlinks suggests search engines that the content on your website is worth showing on top. This is why link building campaigns still exist. But it is also necessary that you check the kind of backlinks you are getting. Doing so on a regular basis should improve your search performance.
To help you achieve the same, we have come up with five free tools, that will offer you a better insight into the links you are getting from different sources.
Google Search Console
Since Google is the leading search engine right now, it makes sense that you should start with their very own search engine tool for webmasters. Google search console is one of the best backlink checkers you can find out there.
All of the data gathered in the tool is coming straight from the search engine itself. It gathers all the links you have created or received from other sources. Available to any webmaster out there, you have the option to check inbound as well as backlinks. Apart from that it also offers you details of links that might be harmful to your ranking.
For detailed information, just open the search console and choose the 'Links' option from the left sidebar. You will find every type of link that your website has acquired to this day.
You might notice in search console, that it shows you a different count compared to other tools out there. This is simply because the search console doesn't show links that are either duplicate or are not indexed. If you are looking for a tool that reliable, go for search console since its directly coming for Google.
SEO SpyGlass
SEO SpyGlass is a great tool for SEO professionals, even though it's free. But when looking for a free tool, you should understand that most of them will offer you limited information only, that's why they are free. Some might show you 'x' amount of links for a website, others might offer less but might give you a chance to save the data. So, consider these tools useful when you are in need of a quick backlink checker.
With SEO SplyGlass you will be able to see backlinks reports up to 1100 backlinks. You will be able to see the pages these backlinks are pointing towards. You can also find what text the links are attached with, also known as anchor texts and the domain authority of the website that is giving you a backlink.
Competitor analysis is another feature available in SpyGlass. You don't have any limit for the number of projects you can add in the tool and the backlink analysis is very detailed. And it also offers you the ability to create custom backlink reports. Though if you are looking for high volume campaigns this tool might not be adequate for your needs.
Monitor Backlinks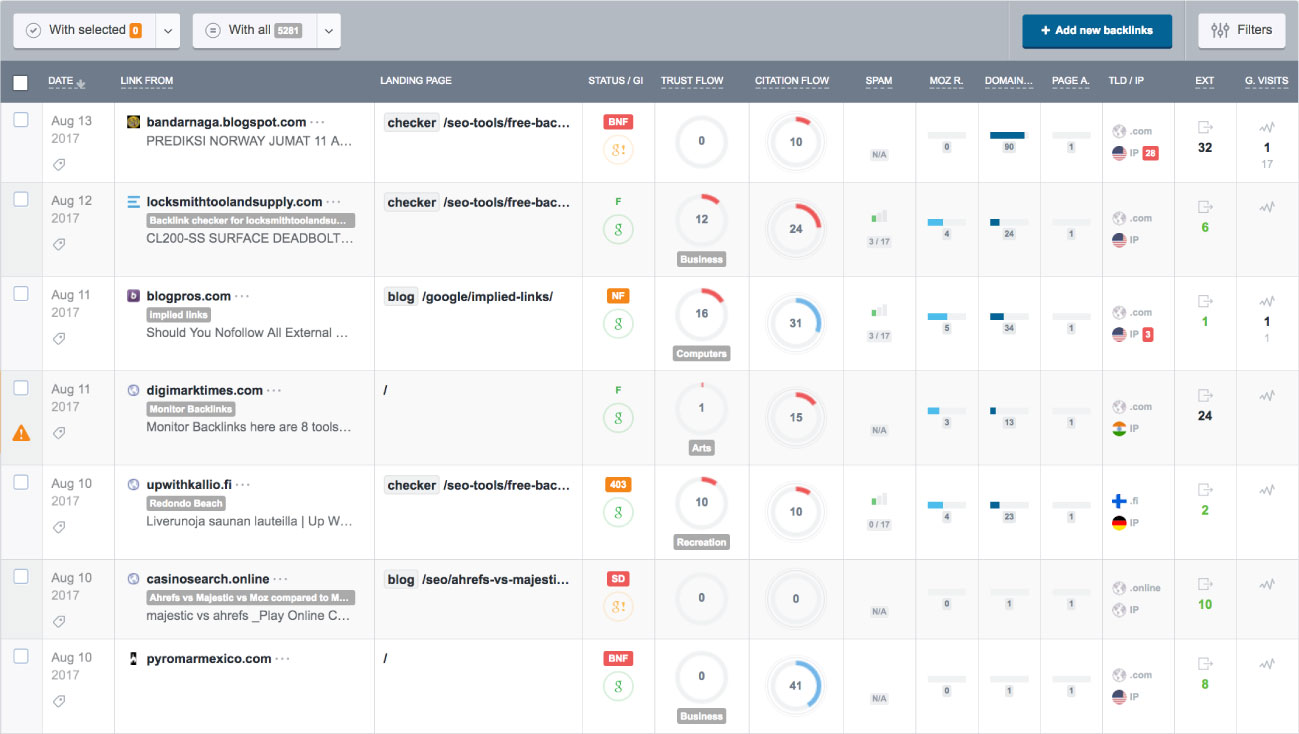 If you are looking for a quick look at the details of the backlinks a website has, Monitor Backlinks is the best tool that you will find in this list. There is no need to register on the site, you can just enter the website and it will offer you an overview of the links it has. Some unique features like being able to see the trust flows and unique domains are also available.
It also offers you the total number of indexed links, and the ability to check multiple websites at once. Though it's really helpful, it is still limited for further link building research purposes.
Ahrefs
This one is probably one of the most popular ones among SEO professionals. Though the paid version of Ahrefs offers much better functionality, the free version is still useful for some quick details.
Once you enter a website, it offers you details of up to 100 backlinks at a time. You will be able to see the total number of backlinks your website has, but you do need to get the paid version if you want to in-depth details of links after the top 100 links.
Seobility
Compared to other backlink checkers on the list, Seobility offers a different functionality with its free version. Instead of limiting the total number of backlinks you can see for a website, Seobility offers only three queries that users can put in.
You don't need to register for this tool as well. Just visit their online tool and enter a website and it will offer you details of backlinks the website has. If you do choose to register, you will get five domain queries. And the interface is also user friendly. But Seobility only crawls 200 external links and only 1000 pages and there is no way to create reports in the free version.
Closing Thoughts
Free tools will always come with limitations, whether it's a limitation in the number of links or projects. You need to choose the right software based on the requirement you might have at that moment. Hopefully, this list will help you get a quick look at your backlinks without worrying about investing in a paid tool.