Grofers is India's online store for grocery shopping founded in December 2013 and besed in Gurgaon, Haryana. Grofers founded by Albinder Dhindsa, Saurabh Kumar. Grofers connects its user to local stores and offers a wide range of groceries, fruits and vegetables, cosmetics, electronics, bakery items, flowers and much more to order through the app and get everything delivered to their doorstep, quickly.
Founders of Grofer:
Albinder Dhindsa:
Albinder Dhindsa completed his Bachelors in Technology from the IIT-D and has also pursued his Masters in Business Administration from the Columbia University – Columbia Business School. After completing his education Albinder came back to India and joined Zomato .com as  Head of International Operations, he worked there for three years and grasped the knowledge on how to run a business while he was working on Zomato he worked on the idea of Grofers.
Saurabh Kumar:
Saurabh is graduated from IIT-Bombay and went to the University of Texas for his MS. He worked Cambridge Systematics along with Albinder Dhindsa, he had also worked with Opera Solutions as Senior Analyst and Rasilant Technologies in Mumbai as a COO.
The inception of Grofers:
Albinder Dhindsa and Saurabh Kumar met each other while working for Cambridge Systematics. Both of them kept in touch even after leaving that job and discover the huge gap in the logistics or delivery industry and could sense a huge untapped opportunity. Hence they quickly got together again and start working on the idea and laid the foundation for their startup.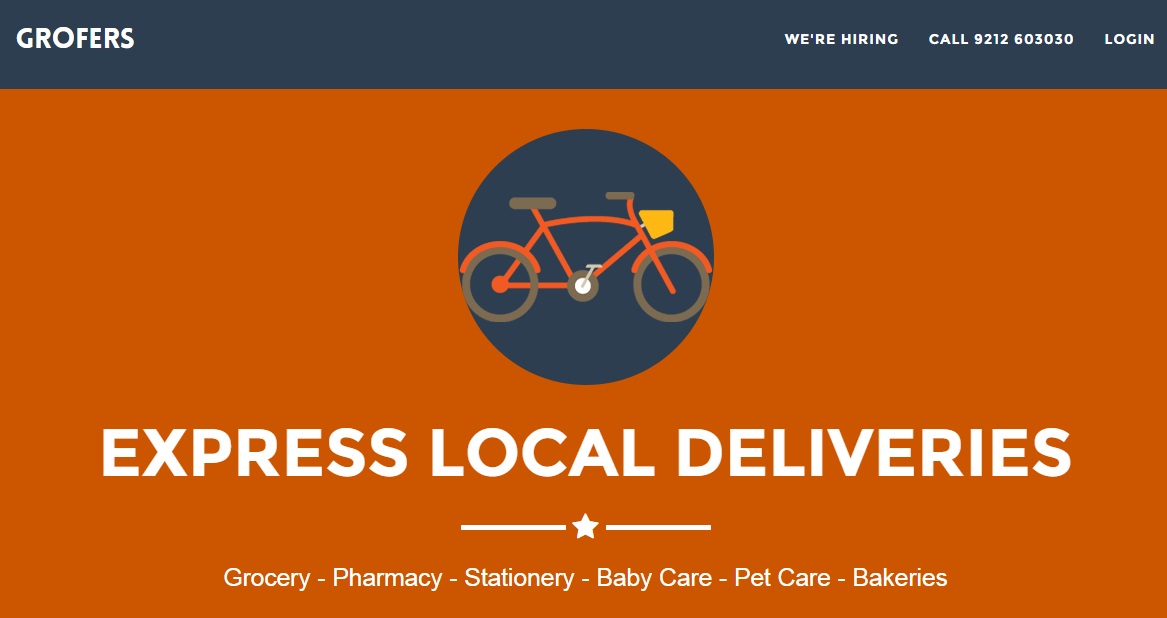 In 2013 they launched an app named Onenumber. Service was to provide an on-demand pickup & drop service from shops like pharmacy, grocery, and restaurants for a customer. It was basically a one-stop solution for customer's local delivery needs but soon they realized that 90% of their orders are for groceries and pharmacy products hence they change their model to concentrate only on groceries and pharmacy and re branded themselves as Grofers.
Funding:
Grofers received its first seed funding of 500 thousand dollars in 2014. After that in 2015, Grofer raised 10 million dollars in Series A funding from Tiger Global Management and Sequoia Capital then again in same year company managed to raise 25 million dollars and in December 2015 Grofer managed to raise its biggest funding of 120 million dollars from following Investors.
Cyriac Roeding

 

Roeding Ventures

 

Tiger Global Management

 

SoftBank

 

Sequoia Capital
Business Model:
Grofers is a HyperLocal On demand logistics system. The core service of Grofer is to deliver grocery, fruits, vegetables and much more daily use household items to you within few hours. Grofers does not own any grocery store or have no warehouses.
The company partners with grocery stores in the city and the delivery boys pick the items from those stores to fulfill the customer's order. You can place your order through the mobile application using your Android or iPhone or you can go to Grofer's website through your desktop.
Acquisitions:
On April 10, 2015, Grofers acquired a Gurgaon based startup named MyGreenBox then is same year October Grofers acquired a Bangalore based B2B logistics delivery company TownRush to increase their productivity.
Competition:
The online grocery market has grown big time in India since it was born. With new player adding up to the market and many of the big offline supermarket going online everyone has to keep up their game to retain the existing customers and to attract new ones. One of the big name in online grocery market and one of the biggest competitors for Grofers is BigBasket. Grofers right now is operating in 17 cities which is one less than BigBasket launched in 2011 which is two years before Grofers. Grofers has also been investors favorite and raised around 150 million dollars in last 4 years.
Other Key players in the market are Pepper Tap and Zopnow and there is new big entrant Amazon. Amazon is the biggest name in e-commerce and has come to e-grocery market. The company started its operation in December 2016 although we don't have any official data the company was able to attract many customers due to its name in the E-commerce market.