A majority, 51% of marketers believe that they get high-quality customers through influencers.
Influencer Marketing Platforms are nothing but online tools to connect agencies and brands to social media influencers. These social Influencers platforms are designed to assist brands to operate their influencer marketing campaigns by connecting them to influencers and managing their work.
Here is the graph to represent different challenges brands faces while running a social media campaign.
Influencer Marketing Platforms helps you with these challenges in systematic ways.
So, here is the list top 15 Influencer Marketing Platforms we came across.
15 Best Influencer Marketing Platforms.
#1 Upfluence
Upfluence is a self-influencer marketing platform, which allows you to set its own price at that level which can be easily affordable by small and medium-sized companies, however, companies like Microsoft and PayPal also use its services. Newly it has developed two products – Facade, a social media search engine, and Publish, an influencer relationship management system.upfluence have a large database over 500 million items can spread across social media where an individual can easily see the product and get influenced. Companies can search through the database to find influencers that match their specific requirement.
#2 Hypr
Hypr is a social influencer platform developed for brands to discover influencers product based on their post on social media nowadays social media is one of the important sources of business where people can easily be influenced by the product and their design. Hypr has a database of 10 million influencers. The main strength of Hypr is the power of search engine. Hypr influencer marketing platform has been using a large database for storing the post which has been posted in social media.hypr also determines the popularity and collecting data.
#3

AspireIQ
AspireIQ is for brands who are looking to build influencer relationships and content at a significant scale. Aspire IQ specialize in working with large consumer brands that are doing Instagram influencer marketing at scale. Their prominent customers include Calvin Klein, HelloFresh, GrubHub, GlossyBox and hundreds more.
Aspire IQ's platform has 4 compartments:
1) a database with hundreds of thousands of influencers
2) CRM software for clients to coordinate with hundreds of influencers
3) Dashboard to track performance per influencer/content by parameters like sales, followers driven and engagement
4) Library where you can export assets and track results of pictures & video in other places like Facebook and Instagram ads.
#4 Fame bit
FameBit is the first self-service influencer marketing platform including numbers of YouTube influencers. FameBit highlights the presence of 33,992 creators reaching 1.9 billion people across various social networks on its platform. Initially, they were focused on just Youtube but gradually have expanded their offering to Instagram and other social networks too. According to fame Bit, its services have been used by over 7,003 brands to do influencer marketing
The social media influencers register themselves on Fame Bit so that brands can interact with them to develop content for their campaigns.
Fame Bit requires signing up for creating a campaign by filling all details of promotion to search out influencers for your business. Once you submit the campaign, you'll start receiving proposals from prospective creators.
At Fame Bit, sign up for creators is free with 10% service charge and for Brands listing is free with 10% service charge.
#5 InNetwork
InNetwork is an opt-in influencer marketing platform. They are careful about who can join their site as an influencer. Nobody can just sign up, they have to go through a screening process first. They are not much worry about somebody's who's follower counts as they are by whether that following is loyal and engaged. They have a team of influencer analysts influence quality, credibility, authenticity, and engagement. Currently, InNetwork provides analytics for blogs and Twitter, however, they also have an account on Facebook, Instagram, YouTube, Pinterest, LinkedIn, Tumblr, Vine, Snapchat, and Flicker when calculating an influencer's InNetwork score many people are there who have been influenced from InNetwork platform of influencer marketing.
#6 Insta brand
Insta brand themselves described as being a "Mobile First Company" and they place their main focus on mobile-specific networks like Instagram and Snapchat. The social influencer platform has more than 100,000 database of influencers.
#7 Klear
klear influencer is a new standard influence marketing created four years ago by three brothers – Guy, Eytan and Noam Avigdor. They wanted to create a smart way to access influencer. Now they are working with some biggest brand like Microsoft, Adidas, coca cola etc.
#8 Onalytica
Onalytica is the earliest method for an influencer marketing platform. It operates on a SaaS platform, charging a monthly subscription fee for use of its features: tools for managing influencer relationships, deep reporting and analytics, access to support, and access to a dedicated Customer Service Manager.
#9 Traackr
Traackr is the oldest method which is discovered in 2008. Traackr gives plenty of options for searching the influencer from the database the main focus of Traacker is to help medium to a large scale of companies. It develops the relationship management, and campaign management over Facebook, Twitter, Instagram, YouTube, Pinterest, and Tumblr channels, along with blogs.
#10 Scrunch
The top position in YouTube Influencer tool list is Scrunch. Srunch has one of the largest database of influencers with over 20 million profiles. Scrunch help businesses to find suitable and relevant influencers. It offers categories of influencers where you can select an influencer from the desired industry. You can also narrow down your search to micro, macro and power influencers.
#11 Influicity
Influicity is a subscription-based influencers platform helping you to create and manage your own network of influencers. It claims more than 1 million social influencers which are the highest on a single platform.
The platform has influencers from YouTube and other social media to get engaged and partner with. Influicity offers the best influencer among 1.6 billion social profiles and marketers can make their selection on the basis of the target audience, location, and behavioral characters.
Influicity has a free basic plan where there will be one client account, one user, and up to 10 influencers can be added to your list.
#12 Heepsy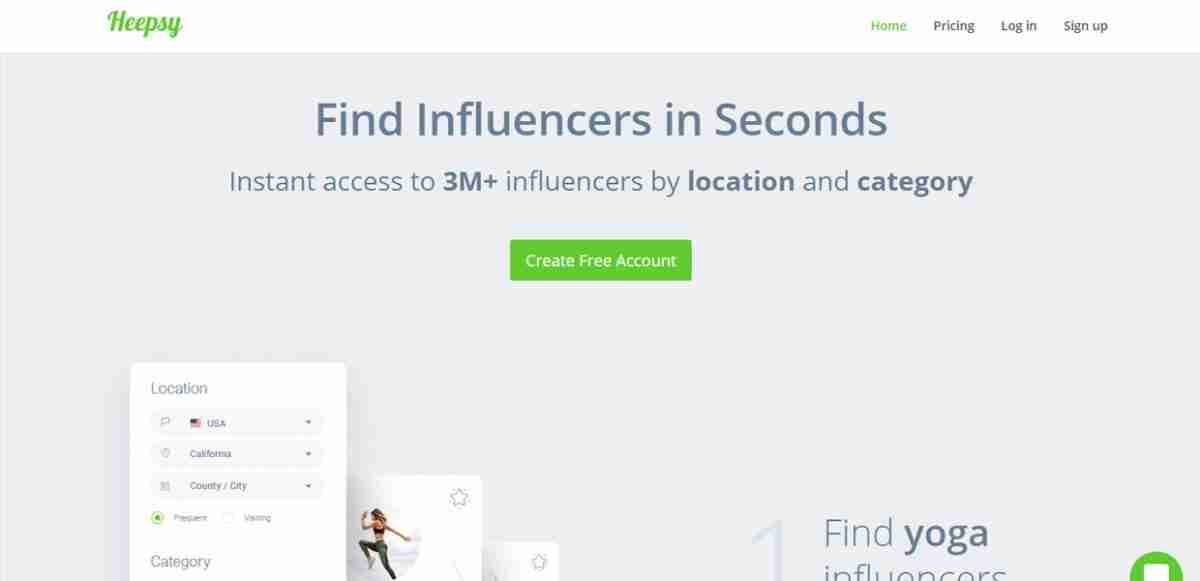 Heepsy has a database of 2 million Instagram influencers. Heepsy monitors Instagram and is favorite among marketers. They have advanced filters, including location and topic, and their pricing makes them ideal for smaller companies. The lowest plan costs nothing and includes bio search and access to 2 million followers, and starting from $9/month you can get location search as well.
Heepsy claims a database of 2 million Instagram influencers and it works only on Instagram. Heepsy is a fantastic software tool for quickly finding the perfect influencers for your Instagram marketing campaign. It is particularly good because you can try it out for free unlike a lot of other tools, Heepsy's prices make them a suitable choice for small companies. Heepsy's paid plans are super affordable (starts at just $29) making it the ideal option for individuals, small businesses & agencies.
The unique targeting features of Heepsy include:
Location– find influencers in just one city or country.
Keyword– look for influencers that have a specific word in their bio, for example, Vegan
Metric – Only show influencers with a minimum of 2000 followers and maximum of 10,000 followers
Contact information –show influencers who have included their contact email in their bio.
#13 Ninja Outreach
Ninja Outreach provides a searchable database of over 5 million influencers and 25 million websites. They have a chrome extension with content prospecting tool which helps find relevant bloggers who have written articles containing the keywords you are looking for. You can find the contact form or email address for the author which saves time. NinJaOutreach provides a filter based on 25 metrics by tags like bloggers, influencers, and companies.
#14 Blogmint
BlogMint has more than 40,000 influencers on its influencers platform including Twitteratis, YouTubers, Facebookers, and bloggers. They also have a presence in Singapore and Indonesia.
It is Asia's largest influencers platform. Blogmint has writers who write blogs for your brand. Mint is one of the oldest companies and has a huge network of bloggers
Connecting with an influencer on Blogmint is same as other self-serving platforms. Brands create and post campaigns over BlogMint. The interested influencer applies for the same and based upon competing proposals, brands hire them on the basis of the genre of BlogScore.
#15 PulpKey
Pulp key is another good influencer marketing platform for brand awareness and engagement. It is an automated platform to create your campaigns. At PulpKey, Campaigns start from Rs 50K and works with influencers having on average 100K followers.
At PulpKey you have to pay an initial fee of around 9K INR and you get connected to 5 influencers.
So, this was our list of top Influencer Marketing Platforms in the market. If you come across other good social influencers platform, do let us know in comment section