Several hotels these days make use of the different social media channels to attract the attention of their prospective customers and also use them to build interpersonal relationship with their existing clientele. A lot of times, the marketers run out of creative ideas on how to engage more travellers and use the various social media platforms to the maximum. Below are some effective social media marketing ideas for hotel business:
Special Discounts
Offer special discounts to those who will use local check-in sites like foursquare, Gowalla or Facebook. This will help you reach out to several new customers and spread the name of your Hotel like wildfire. Local check-ins are in and are very powerful.
Package Deals
Offers special packages such as corporate packages, honeymoon packages, weekend deals etc and let your targeted customers know about your irresistible offers using short tweets or through facebook.
Use Tripadvisor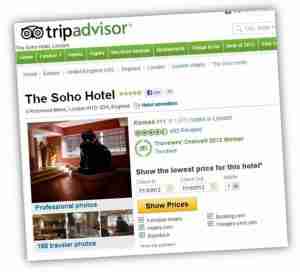 Get your hotel listed on tripadvisor. Travelers rely heavily on trip advisor when selecting a hotel in a particular place. You can also promote your special holiday packages in your tripadvisor listing.
Create Unique Travel Tips
Write a list of 10 to 15 travel tips and share it across the different social media channels such as twitter, facebook etc. This will establish the hotel's brand as an authority in its niche.
Humanize Your Hotel
Apart from posting pictures of your hotel rooms, you may consider sharing some real pictures of your staff, how they function or put a picture of the man of your kitchen, the head chef, or any type of uncommon picture that will give a real touch to your hotel, at the same time intrigue your customers.
Post Fun Stuffs on Official Blog & Social Networks
Your customers will definitely enjoy if you post some interesting facts about the place where your hotel is located. Do some quick research and post a short content that is informative as well as entertaining.
Client Reviews
Encourage your clients to share a funny or an interesting incident that they experienced in your property. With their permission, share the same on facebook or twitter. You future clients will surely love the interesting review of your hotel.
What's New or Up coming
Update your followers about any or upcoming event that is going to take place in your city. Likewise, you can also post a review of any concert or an exhibition that took place recently.
Facebook Optimization
Regularly update on your facebook page and keep it live. Fill in your about me page as comprehensively as possible. Make every effort to collect as many star ratings as possible. The higher the no.of positive facebook reviews, the better will be your hotel's reputation.
Conduct Periodic Polls, surveys and contest
Engage your customers by asking for suggestions, for example, what would they like as an ideal hotel facility. Use their answers to develop your customized services and deals. You can also conduct contests and offer discount coupons as to the contest winners or give away freebies.