Facebook's Frame Studio tool allows anyone to make frames that can be superimposed on top of pictures taken with the Facebook camera or on profile pictures. It essentially works like a filter on Snapchat, where companies pay to have their filter produced and shown on user's devices. But on Frame Studio are free and has potential to reach a wider audience. This is a significant promotional opportunity for marketers.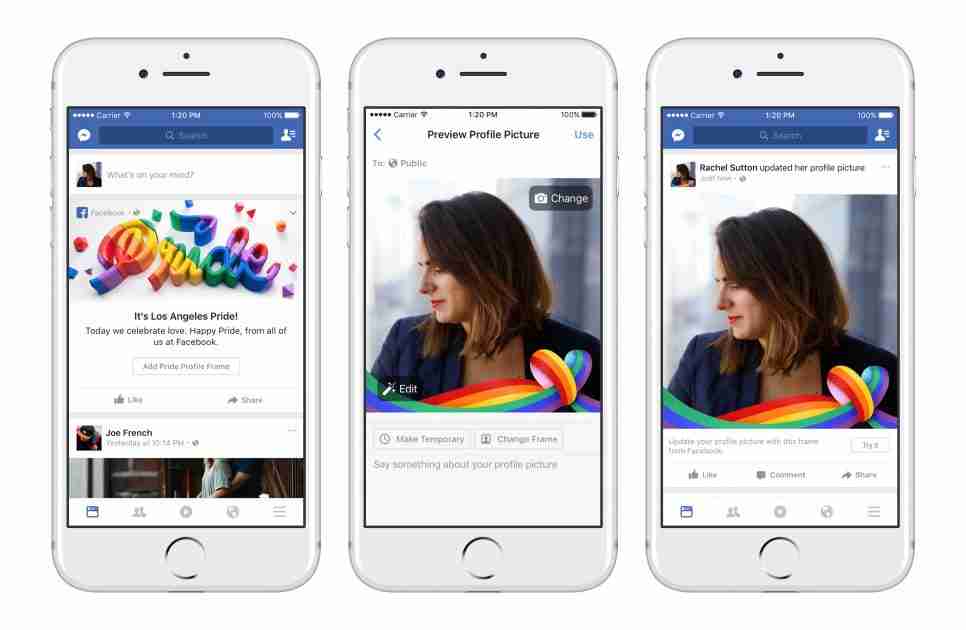 How to Make a Facebook Frame?
Making a Facebook frame is quite simple. You start by visiting Facebook's Frame studio page, which covers the two types of filter tools it offers: Frame Studio, which we'll deal with in this article, and AR Studio.
Click on the "Create a Frame" button and the frame-making tool will launch:
In that, you can use the "Upload Art" tool to select any number of elements you want to add to your frame. The elements can easily be resized and moved around. You'll also see there are three different frames that will be made. The big square one is a frame that people can use to put around their profile pictures on Facebook. The other two are frames that work within Facebook's camera — one for horizontal pictures, the other for vertical. I'll come back to how all of these look in practice in a bit.
Naming, scheduling & targeting your frame
Selecting "Next" at the bottom of the page saves your art and brings you to a new screen, where you can name your frame, link it to a Facebook account or page and schedule when and where it will run. Select the "Effect by" option, a list with your Facebook account and Facebook pages that you have access to manage appeared.
You can also set a start and end date for your frame, which is useful if you are linking it to an event and only want it to appear during a certain period of time. You can also choose to make it visible to people anywhere or geotarget to a particular location. You can also list keywords to be associated with your frame. Enter a word or words. Hit return after each entry to save them. You can add up to 10 words. These aren't used for those seeking frames for the Facebook camera but do seem linked to those who want them for profile pictures.
Submitting your frame
When done, hit the Next button and you'll get to one last overview screen where you can confirm everything. Select the Submit button, and you'll get a warning that after you submit, you won't be able to change your frame's name, the owner of it or any of the artwork. You will be able to change any scheduled time and location in future.
How to Use Frame Studio for Marketing
The key to taking advantage of Frame Studio properly starts with the design. A good design should focus on the consumer, while also relating to your business and/or a specific event. For example, releasing a football-themed frame with your brand's name during the Super Bowl is a clever way to engage your audience. People will be keen to use it to join in on the fun, while simultaneously spreading awareness for your brand.
Aside from the design, you must also think about your target audience. Facebook has ways in which you can reach them when you publish your frame. Adding strategic keywords to your published frame ensures the right audience will soon see your frame. This increases the chances of generating leads through a Facebook frame, as you're targeting the right audience.
In short, Facebook Frame Studio is a cost-effective alternative to Snapchat filters. If you come up with a great design that consumers will love, publish the frame during an event with target keywords to see marketing success.